The Penenberg Post is written, edited, and managed by New York University's Business and Economic Reporting Class of 2020. The site features their original writing and reporting, including blogs about various topics as they relate to modern business and economics. These journalists represents diverse backgrounds, experiences and interests – learn more about them below.
---
Arriana McLymore is the friendly neighborhood tech reporter covering everything from cryptocurrencies, cybersecurity, the FAANG companies and their intersections in diversity. Prior to attending NYU, Arriana interned for DC Inno for six months, reporting on startup companies, gig economy and work trends in the Washington, D.C. area. Arriana worked as a CNBC online intern during her undergraduate years where she learned how to report on earnings, stocks, and tech companies. She is a member of the National Association of Black Journalists (NABJ), the Online News Association (ONA), and Investigative Reporters and Editors, Inc. (IRE). Arriana favorite hobbies are cooking, eating and tweeting.
---
Elizabeth Gravier joined NYU after spending some time on the dark side, working on national advertising for the Los Angeles Business Journal. Thrilled to be back writing, she is currently interning at CBS News in the investigative unit.From interviewing fitness trainers for SHAPE Magazine, to writing the success stories behind LA business executives such as Lynda Weinman of Lynda.com (now owned by LinkedIn) and Jeff Stibel of Dun and Bradstreet, Elizabeth enjoys reporting on all things business-related, especially the personalities behind companies.   Elizabeth grew up in Cleveland, OH, and graduated from Syracuse University's S.I. Newhouse School of Public Communications in 2013 with a B.A. in Magazine Journalism. Her blog this semester will focus on all things #socialmedia.
---
Natalie Sachmechi joined the BER program after graduating from New York University in 2018 with a B.A. in Economics. As an undergrad, she conducted research on Iran's economy, for which she received a grant in 2017. This research led her to pursue economic journalism. Her interests lie in political economy and emerging markets. After graduating, Natalie was an associate in the SEO practice at iQuanti, where she focused on the financial industry. Currently, she is an intern at the CBS News National Desk, preparing national news stories for network television. Natalie speaks three languages including English, Farsi, and Spanish, and will focus her writing on retail and consumer goods.
---
Jasmin Marie Barmore is no stranger to breaking hard news. While building her brand as a reporter, the Detroit-raised business owner and Philanthropist spent most of her time studying her city's challenges of high crime rates, a thriving illegal underground economy, and persistent unemployment and poverty. Aside from enlightening her community, Jasmin has one primary goal in life:  using her authentic voice to build a platform that will allow silent voices to be amplified. Here, Jasmin writes about politics. When Jasmin is not reporting the news, you can often find her on twitter doing what she does best:  @Bjasminmarieb.
---
Marc Stewart's reporting career has taken him across the United States, Europe and Asia, including North Korea. He's reported on topics from the legalization of marijuana to high speed rail in Japan. A former news anchor and reporter at ABC affiliate KMGH in Denver, he is now based in New York City focusing on stories dealing with transportation, business and economics. Marc is originally from Detroit, MI and is a three time Ironman 70.3 finisher.
---
Natalia Kniazhevich graduated from Saint Petersburg State University in Russia in with B.A in finance. Before moving to New York, she was a producer and anchor at Russian Business Channel, the largest independent media in Russia. She covered global economics and politics and hosted the live program "Financial Markets." She has interviewed top Russian and foreign executives, investors and government officials. At RBC she did a special report, "London and Russian Business" for which she interviewed Russian entrepreneurs on how political tensions between Russia and the U.K. affect Russian assets in London.   A Forbes Russia contributor, she has a keen interest in finance, focusing on the oil and gas industry.  
---
Malak Saleh
has a Bachelor's degree in the Science of Nursing with a concentration in Psychology from the University of South Florida. She is currently pursuing her Master's degree in Business and Economic Reporting at New York University. Currently, Malak is employed as an editorial intern at Inc.com, reporting on entrepreneurship, startups, and fastest growing businesses in the U.S. and E.U. Malak would like to apply her background in medicine to develop a career in reporting on healthcare policy changes, businesses, and technology.
---
Frances Yunfan Yue graduated from the Communication University of China with a B.A. in Journalism in 2018. Most recently, she has been covering cross-border private equity transactions at Dai1 Media. During her first semester at NYU, she interviewed and spoke to immigrants who supported Trump in Scranton, PA. and snapshotted the bankrupt retailer Sears on Black Friday. Before coming to the U.S., she was a Social Media intern at the Chinese Wall Street Journal and previously covered intellectual property in China. She loves tea, bagels, and rock and roll. Frances focuses her writing on private equity.
---
Millie Dent
received a Bachelor's Degree in Government in 2015 and a writing certificate at Wesleyan University. After graduating, she worked as a reporter at The Fiscal Times, covering business news, personal finance and international affairs. Millie then spent two years at American Metal Market, reporting on the North American steel and nonferrous metals industry. She is currently an intern at 60 Minutes. She is originally from Washington DC. Millie will be blogging about electric vehicles.   
---
Giovanna Bellotti Azevedo has a Bachelor's degree in International Politics from Georgetown University's School of Foreign Service. She is now pursuing her Master's degree in Journalism — Business Economic Reporting at New York University. She worked as a staff writer for The Hoya (Georgetown's newspaper) and interned for two summers at TV Globo, Latin America's largest media group and broadcaster. This summer, she will be interning with Bloomberg News. She is originally from Rio de Janeiro, Brazil. At The Penenberg Post, she will be blogging about women.
---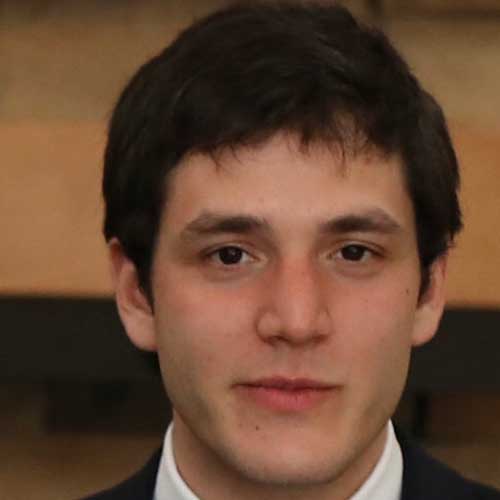 Daniel Khun received his B.A. in Philosophy from Saint Michael's College in 2015. He spent two years serving as music director for the college's radio station, WWPV. He also completed an internship with Pi Recordings. This past year he has taken post-graduate English courses at The City College of New York, where he helped organize the Graduate Literature Student Association. He has presented his academic work at several literary conferences. His paper, "The Descent into Pure Ideology," a cross literary examination of how novels discuss the shifting economic and social factors that give rise to totalitarianism, was a finalist at the CUNY Graduate Student Research Symposium. Catch him on WNYU this coming spring talking about the greatest living punk band, 'No One and Somebodies.' His blog will cover universal basic income.
---
Lavanya Nair
 graduated from the University of Central Lancashire with a B.A (Hons) in Japanese for International Business. While at UCLan, she composed articles for various online media sites such as The Culture Trip Ltd and Film Daily, on an array of topics such as travel, film, and gastronomy. Lavanya also completed a marketing internship for Penguin Random House Publishing in order to gain an insight into the various segments that make up the world of publishing. She spent a semester in Japan, developing fluency and studying the local business environment. Lavanya speaks five languages including Japanese, Spanish, English, Hindi and Malayalam. Upon graduating, she worked for the IYUNO media group as a freelance translator to exercise her love of languages and linguistics. Her passions include, travel, food and foreign cinema. She writes about the latest business news pertaining to Japan.